We will be discussing The importance of CRM Software today. Customer relationship management software assists companies in managing their customer relationships. It can be used by companies to keep track of customer data such as contact information and account history.
By utilising this information, businesses can better understand their customers. In addition to creating and managing customer interactions, CRM software allows businesses to manage deals, sales pitches, and customer service issues. 
When it comes to small businesses, CRM software is not widely used. They do not understand the importance of CRM Software. It is used by large corporations as a vital part of business operations. 
Business cards and spreadsheets are the most common ways in which small businesses store and operate their client data. These methods hinder the growth of their businesses.
Benefits of using CRM software
Enhanced customer service: CRM software can be used to track customer interactions, including sales pitches and customer service inquiries. With this information, companies can improve the quality of their customer service. 
Increased sales: Platform can assist companies in greater grasp and serving its clients. Sales growth may result from this information.
Reduced customer churn: It can assist companies in keeping track of client information such as contact details, account record, and engagements. This information can assist firms in reducing customer turnover.
Reduced Customer acquisition expenditures: CRM supports organisations in attracting new customers by allowing them to quickly identify and serve their existing clients. On the market, there are numerous CRM software solutions to choose from.
It's critical to get the correct CRM software for your company. Consider your company's objectives and requirements as a starting point. Perhaps you might limit down your choices to the CRM software that best meets your requirements.
Key features to consider
Convenient – Whatever your role in business is, CRM software should be straightforward to use.
Data integration – To maximise customer data management competence, CRM software should be able to integrate with other business systems, such as accounting software.
Reports – Check to see if the CRM software you're considering has thorough reporting and also analysis. This allows you to monitor customer effectiveness and also development.
Communication Tools – CRM software should additionally make communicating with your clients easier.
Data Preservation – It's critical that your CRM application enables you to save and then keep important client information. Such as a schedule of events with the customer, so you can track the relationship's progression.
Collaboration – Within your team, the Platform must enable for team collaboration as well as working from home and interaction.
How to choose the right CRM Software
On the market, there are a plethora of CRM software solutions to choose from. When selecting CRM software for your company, there are a few things to keep in mind, to fully understand the importance of CRM Software. These elements include functions such as:
Business needs
Budget
Business capabilities
Features you are interested in
User Interface
Service availability
Software congruity
Nonetheless, after you've settled on the most crucial characteristics, you can begin analysing the many software options available.
Skhokho CRM Introduction
Skhokho is a customer relationship management system (CRM) created primarily for start – ups. It has a simple user interface and also a number of qualities that make it excellent for maintaining customer relations. Customer data, such as contact information, product sales, and customer service interactions, may all be tracked with Skhokho. Businesses can also use it to develop bespoke reports and analysis to help comprehend their core audience.
Moreover, Skhokho CRM Software is seamlessly integrated with a business management platform. It includes software such as accounting software, hr management software, project management, and OKR software. However using Skhokho, companies can manage all of their operations in one location. Also allowing them to track and manage progress much more easily. It is also adaptable and may be personalised to match the needs of your organisation.
How does Skhokho CRM stack up against competing software products?
CRM features your business needs
Skhokho CRM
Other CRM
Cloud hosted, accessible from anywhere
Yes
Yes
Complete contact management system for tracking sales contacts
Yes
Yes
Lead management including lead pipeline view
Yes
Yes
Collaboration tools – allow for multiple people to work on the same accounts
Yes
Yes
Native integration of customer data with your accounting data (eg. Record sales expenses such as 'entertaining clients' from the CRM app, but include the expense within your accounting records)
Yes
No
Record client meetings notes, email minutes of meeting directly from CRM to your clients
Yes
No
Create and also email campaigns directly from your CRM. Without using a third-party mailing providers like Mailchimp
Start Using Skhokho CRM Software
CRM systems are offered in a range of implementations. Skhokho CRM, on the other hand, is fully integrated into a Business Management Platform, which also contains a number of additional software resources that are utilised in day-to-day operational processes.
Consequently, Skhokho CRM Software is the appropriate choice for you. If you're seeking for a CRM software program that's simple to get around and also multifunctional. The software is simple to navigate and use, so you'll be ready to get up and running.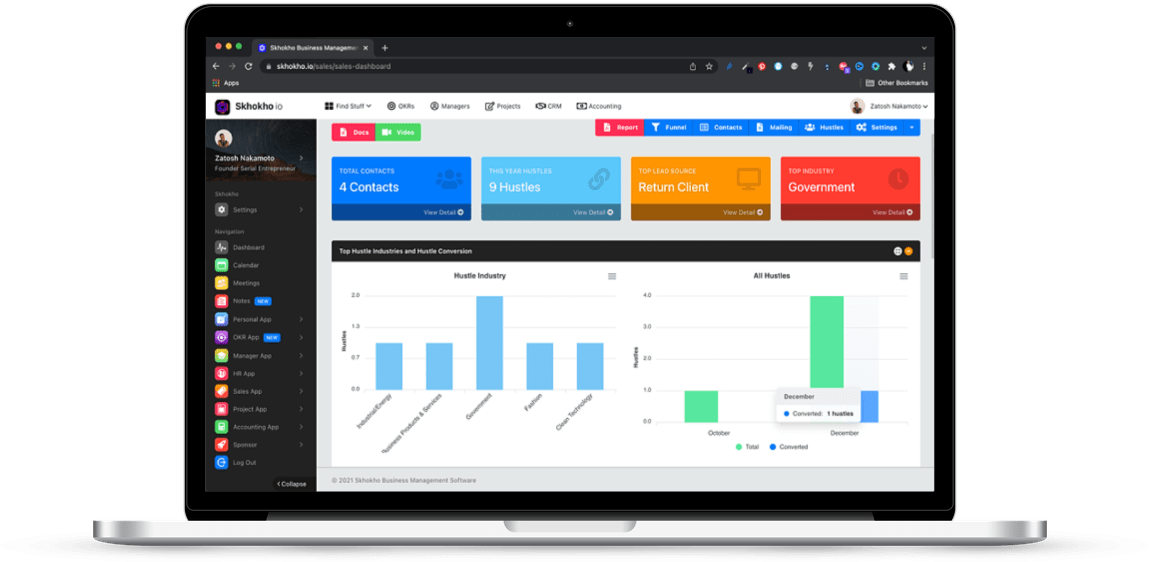 We also provide a number of functions which might assist you in better managing your company. Skhokho CRM Software is indeed a guaranteed solution for you. Especially if you're seeking for a CRM software application which will help you to improve your client interactions.
Register for a free 14 day trial here: Skhokho.io/register
Also check out video tutorials: https://www.youtube.com/channel/UCEUBXG1R5YzUmuvGaJP9KYA
For more information and tips on how to fully use CRM, check out this article: Using CRM Software