As part of this blog, we will share how to implement efficiency hacks that you can apply in your small business, as well as some tools you can use to master productivity and do more with less.
What do we mean by: Implement Efficiency Hacks
Productivity hacks are minor alterations or modifications to your daily or work process that can result in significant improvement in efficiency.
One efficiency hack could be to get up extra early daily use that opportunity to have a good start on your job.
Alternatively, you may group comparable activities together to provide them more quickly.
When it comes to efficiency hacks, the possibilities are unlimited, and the main things are generally specific to the person.
However, there are a few common suggestions and tactics that can assist any small business owner in increasing efficiency.
Here are some of our personal favorites:
Compose yourself.
Getting organized is the first step toward being more and more efficient. This entails decluttering your office, both physically and digitally.
Begin by deleting any obsolete files, folders, or documents. Then go through your email inbox and cancel from any publications or mailing lists that aren't necessary.
Take a little time after your workplace has been tidied up to build a method for organising your work. Establishing a document management system, employing a project management program, or simply making a daily to-do list are all options.
Establish timeframes.
Setting deadlines is one of the most effective strategies to encourage yourself to complete tasks. You are much more willing to focus and operate more effectively if you have a deadlines.
If you're trying to work on a multi-part assignment, try breaking it down into manageable activities and assigning timeframes to each one.
Take frequent pauses.
Taking breaks may appear contradictory, but they can potentially help you be more effective. You are giving your brain an opportunity to rest and recharge whenever you take a little break.
This can help you return to work feeling revitalised and prepared to take on new challenges. Basically keep your breaks brief and sweet, and resume work before you begin to get anxious.
Consider outsourcing and delegating.
You must learn to delegate and outsource in order to be truly effective. This entails determining which activities can be assigned and then discovering someone to complete them.
How do you put efficiency hacks into practice in your small company?
Let's talk about efficiency hacks in the context of a business, and how you might get your entire staff to be more productive at work. Because small enterprises frequently have few resources, production efficiency is extremely vital.
Here are some suggestions for improving efficiency in your small company:
Make your workplace a happy place to work.
Creating a nice work atmosphere is the first step toward influencing your staff to be efficient. Employees will feel at ease showing up for work, will be free to take breaks as necessary, and will have their views heard.
Providing your staff with the tools and information they need to execute their jobs properly is one way to foster a healthy work environment. This entails providing enough desks and seats for everybody, as well as the appropriate software for the operation and sufficient printer paper and ink.
An open-door policy is another technique to foster a healthy work atmosphere. Workers will feel free to come to you with any issues or questions they may have. Regular team meetings are also necessary to ensure that were all on the same path and understands what is needed of them.
Furthermore, you can convince your staff that you value their efforts by providing regular feedback, recognizing their accomplishments, and providing possibilities for advancement.
Promote collaboration.
Encourage teamwork as another strategy to achieve greater efficiency. This entails giving your team opportunity to collaborate on projects and share expertise and suggestions.
There are several options for doing so:
Encourage staff to collaborate and share suggestions. This can be accomplished in a number of ways, including planning meetings, company-wide email threads, and even casual discussions.

Allow staff to collaborate on projects with ease. This entails supplying the appropriate resources and tools, as well as ensuring that everyone is on the same track.

Motivate employees to engage with one another. This can be accomplished through company-sponsored activities or simply by fostering a pleasant atmosphere.
Employees should provide and accept feedback. Frequent performance evaluations, 360-degree feedback, or even informal talks can all help with this.
Employees should be encouraged to take breaks. This can be accomplished by giving staff plenty of vacation time, allowing them to work from home, or simply encouraging them to do so.
Skhokho Business Management Software: Small Business Collaboration
Skhokho is a collaboration-friendly comprehensive business management software that includes the following capabilities:
– Project management software with project milestone and team task management
– Document management within a project team
– Customer relationship management (CRM)
– Human resources (HR) and payroll
– Goal Setting and Tracking with OKRs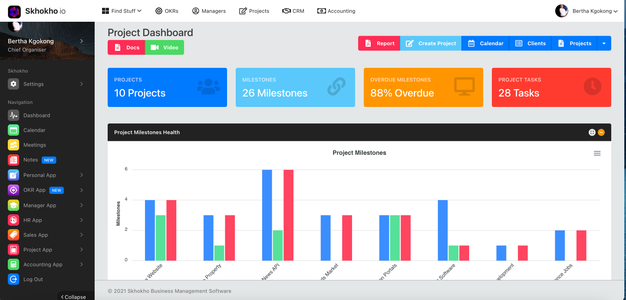 Skhokho is ideal for small enterprises because it is both cost-effective and simple to use. Use the software to boost worker productivity in the following ways:
Allowing individuals of a team to work together on assignments
Keeping track of and maintaining customer connections
Making informed judgments by analysing business data
Automating HR and payroll processes.
Define your objectives.
Setting clear goals for your team is also crucial. This entails having a clear idea of what you want to accomplish and then sharing that idea with your group.
It's also critical to ensure that everyone on your team understands their respective duties and obligations. This will assist them in understanding what is required of them now and allowing them to operate better.
Here are a few tips:
Describe what you want to accomplish – As you set goals to achieve, you must first determine whatever you want to accomplish as a company. What do you want to achieve in the long run? What are your goals for the next three months or a year? You may start defining goals for your team to assist you get there once you have a clear notion of what you want to accomplish.
Make your goals SMART – Make sure your goals are specific, measurable, achievable, relevant, and time-bound while you're setting them. This will guarantee that your objectives are clear and attainable, and that your team understands what they must do to achieve objectives.
Establish your goals and communicate them to your team – Once you have established your goals, you should communicate them to your team. Describe your goals and why you feel they are important. So that everyone is on the same page, encourage them to ask questions and provide feedback.
Setting deadlines can motivate your team to succeed – By setting a deadline, you can ensure that they will be inspired to achieve the goals. As a result, they will feel more urgent and focus on the task at hand.
Hold your team accountable – It's critical to hold your team accountable after you've defined your goals and conveyed them to them. Keep in touch with them on a frequent basis to check how they're doing and to give them feedback. If someone isn't meeting their goals, talk to them about why and how you can assist them get back on the right path.
Using Skhokho Business Software: Implement Efficiency Hacks
OkR Management is integrated into Skhokho Business Software. It allows the making of processes such as recording, and tracking of OKRs. Setting goals and seeing progress over time will enable small business owners to measure and improve workforce productivity.
A well-defined set of OKRs can be used to enhance productivity and results in businesses of all sizes. Set and track OKRs, and you can see what areas your employees are excelling at and what areas need improvement.
With Skhokho Business Software, small business owners can easily create and track OKRs, allowing them to improve workplace productivity and achieve better results.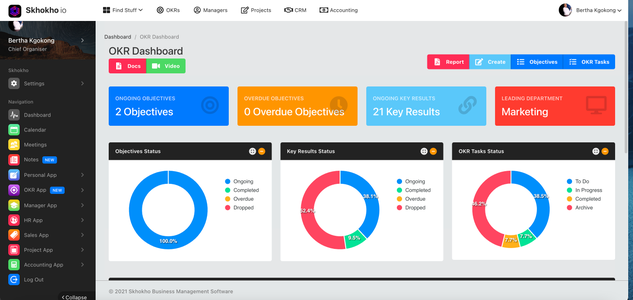 Read More on Skhokho OKRs – https://skhokho.io/objective_key_results_okr_software 
Skhokho OKR Documentation: https://skhokho.io/documentation/okr/ 
OKR Article: https://blog.tati.digital/2022/04/12/growth-hacking-and-using-okrs-to-hack-growth/
Offer feedback: Implement Efficiency Hacks
After that, providing feedback is among the most crucial things you can do to enhance efficiency in your small company. Feedback is the greatest thing on earth, and every high-performing team member yearns for it. It's a means of demonstrating that you're paying much attention and are concerned regarding their progress.
Giving feedback is most effective when it is a two-way interaction. After you've asked your team members how they think they did on an assignment, provide your own evaluation. This will assist them in comprehending your viewpoint and learning how to better for the future. It will also assist you in gaining a better knowledge of their cognitive process and preferred methods of operation.
Make it a habit to provide feedback on a regular basis, rather than only when something goes wrong. Acknowledge outstanding deeds and, when necessary, offer constructive feedback. And make every effort to provide detailed, unbiased, and meaningful comments.
Implement Efficiency Hacks Hacks in Your Small Business
Get started on Skhokho with a 14 day free trial, no credit cards required.