In this article, we will discuss 2022's top Business Management Software, comparing the and also cons of each product presented.
What is Business Management Software, and how does it work?
A business management software system assists organisations in managing all elements of their everyday operations. Because it is technically difficult to sustain ALL processes in an organisation in software, we end up settling for the MOST areas of business operations that can be handled by application.

These business operations include features such as:
Human Resource Management (Employee Records, Files, Payroll)
Accounting Management
Project Management
Goal setting, tasks management
Sales and CRM (Customer Relationship Management)
Business Meetings, notes and documents
Inventory management
Business management software vs. specialised software for each department of your company
Using multiple applications for different aspects of your business is an alternative to using one Business Management Software. To manage sales and leads, you can get CRM and also accounting software. Each option has its advantages and also disadvantages:
The advantages of adopting a single platform for everything
Cost – Paying for one platform is cheaper than paying for multiple software services.
Simple integration – with one platform of Business Software, your data is automatically synchronized across applications.
Having all the business data in one place — you can only give one answer to your clients when they ask where their data is stored, since it is located on one server in one geographic location.
The disadvantages of using a single platform for everything
There is the obvious disadvantage of not being able to get one platform to cover all aspects of business operations.
The features of business applications that target specific business processes can often be more advanced than those of general-purpose software. When your business is heavily dependent on sales and you need detailed sales support, a custom CRM may be the best choice.
Now let's count down the top five 2022's top Business Management Software
Skhokho Business Management Software
Here is our pick for 2022's top Business Management Software
Website: https://skhokho.io
Pricing: Packages start at $20
As part of Skhokho, you will find apps such as: (1) HRMS, (2) Note taking app, (3) Meetings app, (4) Task management app, (5) Project milestones and task management, (6) Sales and CRM, (7) Contact management app, (8) Accounting app – invoicing, expenses, cash flow, management accounts, (9) Email marketing – within CRM app.
This platform synced all these useful features into a single platform.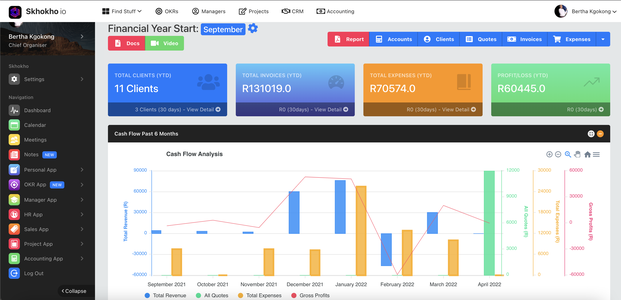 Why we prefer Skhokho?
There is excellent documentation for Skhokho, and also videos are available on nearly every page explaining how to use the platform.
In terms of design, Skhokho is very modern, colourful, and as well as easy to use.
Furthermore, for the price you pay, you get real value for your money.
Skhokho Challenges
Currently, the development team is integrating APIs with other SaaS-based platforms.
Oracle Netsuite
Website: https://www.netsuite.com/ 
Pricing: It is specifically billed for particular business requirements and is not visible on the internet, however other sources say it starts at $999 per month plus an extra $99 per user.
Oracle Netsuite is an Enterprise Resource Planning (ERP) software with the following features: (1) Accounting software, (2) CRM with Salesforce Automation, (3) HRMS – with Payroll and performance management and (4) Analytics and reporting. For small firms, Oracle Netsuite may be too advanced – it is more appropriate for larger, more sophisticated firms with detailed management needs.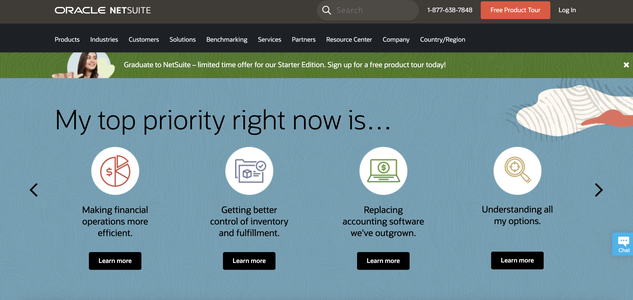 The things we enjoy about Netsuite
If you have Salesforce already, you can use advanced features, like Salesforce integration
A great solution for large, complex businesses.
Automation tools are built into their accounting software system to help automate repetitive tasks.
Challenges with Netsuite
There is no immediate access to the platform, you need to schedule a meeting with a consultant to get started, not ideal for small businesses on the move. There is no free trial.
It also comes at a steep price, which does not make sense for small businesses with simple needs.
This is an old-fashioned system that is hard to use. It requires training.
This tool does not provide tools such as: other business management tools like task management, project management, and goal setting.
Odoo
Website: https://www.odoo.com/ 
Prices for CRM, Sales, Accounting, Documents, Projects, Expenses as well as Employees are $175 per month. Moreover, additional apps can be added for approximately $16 each.
In Odoo, you can manage your business in one place with the help of several integrated business applications. Users have the option to choose the apps they like and then only pay for what they use in the model. During the platform's setup, a new subdomain will be created for your business, under the Odoo website, to host your new ERP. View all the available apps here: https://www.odoo.com/page/all-apps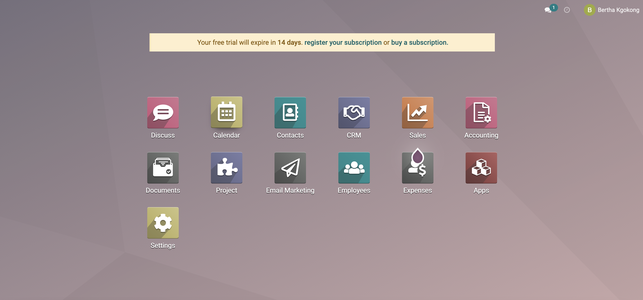 Pros about Odoo
All of your business applications in one place. It's straightforward and easy to set up, you will then be able to use their website right away without having to set up meetings with sales and demos. Before you commit to a payment plan, you get a 14-day trial version to test it out.
Cons about Odoo
It has a pricing system that makes it hard for small business to integrate to it.
Zoho One
Website: https://www.zoho.com/one/overview.html 
Pricing: $ 90 per user or $35 per employee in a business, meaning the owner should buy a license for all the employees within the business.
Zoho has similar features to Odoo. It also provide couple of important business applications that one could buy to help with the management of day-to-day operations. They offer business applications to help support sales, HR, collaboration, productivity, finance, marketing and so on.
The Zoho One software is more advance as it also offers different software options of different complexity levels. In terms of CRMs, for example, there are several differences in features, such as pipeline tracking, lead management, and intelligent lead generation.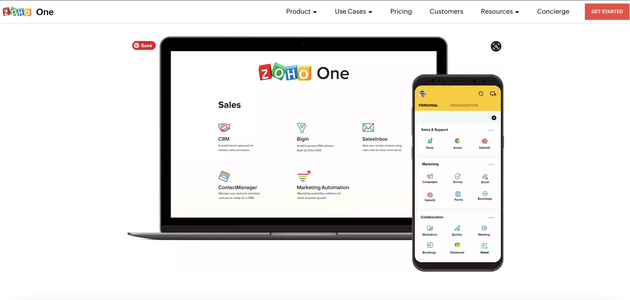 Pros about Zoho One
They seem to have the lowest pricing compared to others, except for Skhokho.
Cons with Zoho One
In a small company with 10 employees, the price can add up very quickly, making you pay $350 each month. 
Application access and login remain separate from each other. Additionally, to integrate them, an additional app is required.
Work with Zoho One is no different from working with five different apps for different sections of your business. It presents the same complexity as working with five separate apps.
Basecamp
Website: https://basecamp.com/
Pricing: $99 per month
Despite the fact that Basecamp does not really fit the standards of a proper Business Management Software, it's included on our list. Basecamp does not offer HR management, accounting, goal setting, etc. The software is basically a project management software for steroids, with extra features like CRM, chat capabilities, administration, collaboration, and teams, among others.
The same line of software includes several other projects-management-centric products with some added features to help you cover other aspects of your business. Basecamp's competitors include Asana and also Monday.com.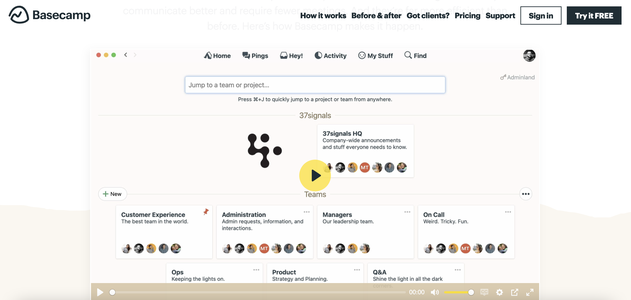 Pros about Basecamp
Pricing for their services is affordable and also fixed according to the organisation, with unlimited users and projects available.
Cons with Basecamp
According to the previous paragraph, Basecamp is not a full Business Management Software. It is still necessary to purchase other SaaS products to cover accounting, invoicing, setting goals, and managing meetings.
Conclusion: 2022's top Business Management Software
There are a variety of options depending on your needs and software requirements after reviewing these top Business Management Software of 2022.
If you want something different, Zoho One can be a nice choice.
Oracle Netsuite is a fantastic alternative if you manage a larger company with complicated situations requiring a sophisticated ERP and money is not a problem.
Skhokho is the software for small businesses looking for a single (already integrated) solution to all of their business needs at the lowest possible price.
Get started with Skhokho
Register for a 14 day free trial – https://skhokho.io/authentication/register