How to lead your team successfully while working remotely? As a result of the global pandemic, more teams adopted a remote working culture in the recent years.
We witnessed big and small companies around the world shift to a remote working, or hybrid model of working.
There are benefits and disadvantages to every transition, and working from home brings a special combination of disadvantages and advantages.
Disadvantages and Advantages of Working Remotely
| | |
| --- | --- |
| Disasvantages | Advantages |
| Becoming habituated to working independently. | Individuals are trained to better balance their professional and personal lives. |
| Beginning to feel isolated or pulled off from your colleagues. | Improve work-life balance through lowering stress levels. |
| Distracted or unable to concentrate. | Employee empowerment and fulfilment can be improved. |
| Incapability to make use of benefits such as free food or social events at work | It is possible that the company and its employees will save money as a result of this initiative (travel costs) |
| There is a lack of understanding about what is expected of you or what your role is. | Workers have more control over when and how they work. |
| Incapability to work with others without difficulty | Better productivity can be achieved when employees are more engaged, balanced, and managed |
Both sides have valid points to make. Working remotely has become the new normal for many businesses, forcing them to scurry to develop policies and processes that succeed. Working remotely can sometimes contribute to improved efficiency and lower operating costs, which is excellent for any company's bottom line.
Any company that wishes to develop an effective work-from-home policy should keep the following points in mind:
Lead a team successfully when working remotely
Manage time well
Stay focused while working remotely
Build systems and procedures for effective productivity within remote teams
Any organisation can have a fruitful remote working crew that is productive and efficient if these areas are adequately maintained.
How To Staying productive?: Lead Your Team Successfully
Remote working has obvious advantages, but it is also simple to become distracted. It is quite simple for you and your team members to lose focus of the crucial goals and objectives while you are working next to the Netflix, sofa, and your staff is not together to encourage responsibility.
Working from home with a team can be productive. Here are some tips for staying productive.
Stick To Your Schedule
Schedule daily tasks and check-ins and follow it; ensure that everyone takes part in the check-ins and reports what they have been doing and how they are doing it.
During the lockdown, for instance, our team had a routine check at a specific time where we addressed all of the things we were working on, what we had completed, and what we planned to focus on the next day. Members of the team can also utilise this time to discuss where they are confused and how others might help.
A further reason to make a schedule is to make sure that everything has a specified time. Stuff such as tea breaks, lunch breaks, walks, and other breaks should all be scheduled according to a set schedule. This will enable you to establish a successful routine.
Create a Workspace : Lead Your Team Successfully
If you want to be effective when working remotely, you'll need a dedicated workplace. Encourage your staff to design their own workstations from home that are appropriate for the work they must complete. A proper workspace is a specific work area with all of your necessary supplies where you can focus on your task without being distracted.
Take Breaks
When working remotely, it's critical to take breaks in order to keep refreshed and concentrated. Tea breaks, (2) Smoke breaks if needed, (3) Lunch breaks, and (4) Resting breaks are the types of breaks you should include in your plan stated in point 1 above.
Stay Organised: Lead Your Team Successfully
To keep organised and connected with the rest of your team, you'll need systems. Keep a team organised with a Slack, or a similar workspace chat platform. An excellent option that we use is https://mymana.com/.
Workplace chat apps can aid in the organisation of communication, little tasks, and collaboration tools.
Business Software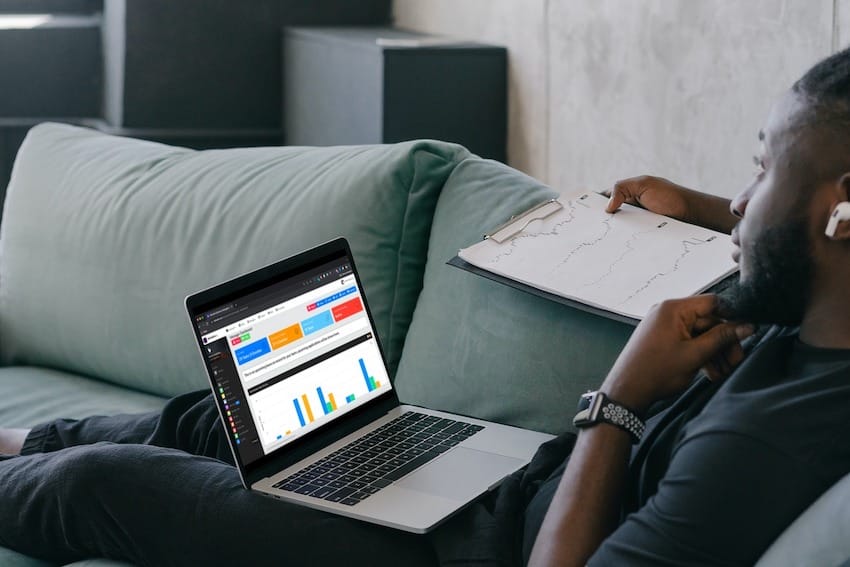 To get totally organised, you'll need a system that can manage all corporate activities from departments such as Human Resources to project management, task management, accounting, meetings, sales CRM, and goal management. Skhokho has encapsulated all of these features in a simple, straightforward web-based software program that can be viewed from any location via the internet.
Skhokho is therefore suitable for "working remotely" and "continuing to work from home" teams and organisations who want to keep organised.
Start with Skhokho 14 day free trial. If you do not like it then you can just stop using it after the trial, no strings attached.
Objective Key Results (OKRs) : Lead Your Team Successfully
OKRs (objective key results) are a wonderful method to handling corporate, team, and also personal goals throughout the entire team division. On the interactive platform, you may define, measure, and manage targets as well as their important outcomes. Your team will always be aware of the goals, who is accountable for them, and when the task is due.
All staff members may view the OKRs from anywhere, at any time. Since data is transmitted in real-time, no lags or delays expected.
Task Management with Skhokho Manager App
Captains can distribute duties to their team players using the Skhokho manager app. For more information, then see the guideline here or watch this team task management video, which demonstrates how simple it is to build and delegate work to your associates.
This dashboard is also available to the team captain, who may use it to keep track of the current condition of activities, as well as the workload of the team, who is accountable for what duties, which tasks are outstanding, and which are finished.
Project Milestones and Tasks
The project management app is also suitable for milestone and project task management. If your team is working on a fixed project with milestones and also deliverables. The project management tool allows you to keep track of project reports, meetings, documents, client information, client connections, and also much more.
Store notes with Meeting Software : Lead Your Team Successfully
Skhokho is the first integrated Business Management Software that includes a complete meeting management platform, allowing you to keep track of project, sales, and other corporate event notes all in one place. This helps you with keeping minutes from previous meetings. Keep track of your meeting actions and make sure that material is stored safely.
For more information, view every blog we have written on blog.tati.digital.