In terms of price, small businesses may find no Affordable Business Software. Nevertheless, all small businesses need the following tools to run their daily operations:
Human Resource Management – Organise records, files, leave, and payroll for your employees
Goal setting and KPI – Business goal-setting tools to help you track and create business goals
Project Management – Track project progress and milestones using tools that allow your team to collaborate
Accounting Software – Measure and record revenue inflows and outflows through financial tracking tools
CRM – Keeping track of clients and sales leads in one place
The Money Challenge
To be able to accomplish all the above tasks, a small business will need to purchase four distinct software programs to fulfil all of the aforementioned duties. However it can get expensive for new businesses.
| | | |
| --- | --- | --- |
| HR Software | R28 per user per month | https://sage.hr/pricing |
| Project Management Software | $24 per user per month | https://www.wrike.com/price/ |
| Accounting Software | R119 per month | https://quickbooks.intuit.com/za/pricing/ |
| Sales and CRM | Euro25 per user per month | https://www.salesforce.com/eu/solutions/small-business-solutions/pricing/ |
| Goal Setting OKR Software | $15 per user per month | https://gtmhub.com/pricing |
Total cost: roughly ZAR 1146, or $78 per user. It's vital to remember that these costs are "per user per month," which then means you'll have to multiply them by the quantity of people in your organisation.
Small businesses resort to spreadsheet management and storing records in inboxes, drop-boxes, and Google Drive folders as a result of these prices.
Introducing Skhokho: Affordable Business Software
Businesses and also small businesses can benefit from a full range of features and functions at an affordable price with affordable business software. Skhokho offers everything you need for a growing business at an affordable price!
Using years of experience and research, we have then compiled the most useful functions of a small business in one easy-to-use platform. Just what you need for a small business.
This Business Software is an excellent choice for small enterprises because it includes all of the functionality they require without spending a fortune.
Get started with Skhokho.
Apps Within Skhokho BMS
Human Resource Management: Affordable Business Software
This HR Software application allows you to handle all of your employee records, HR files, leave management, team task management, payroll, and also payslips for your staff. Skhokho's basic plan, currently starts at $20 per month for up to three users, also including HRM software.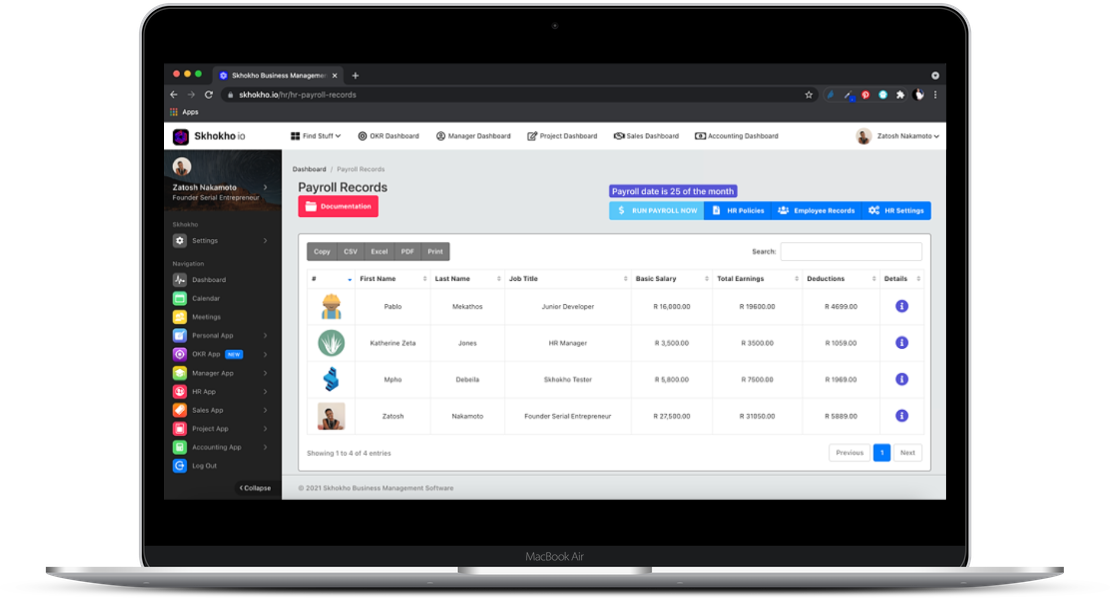 Goal Setting with OKRs
OKRs are a goal-setting technique. They are also employed by some of the world's most successful companie. Such as Google and also Amazon. OKRs are also included in Skhokho's base service, which costs $20 per month for up to three users.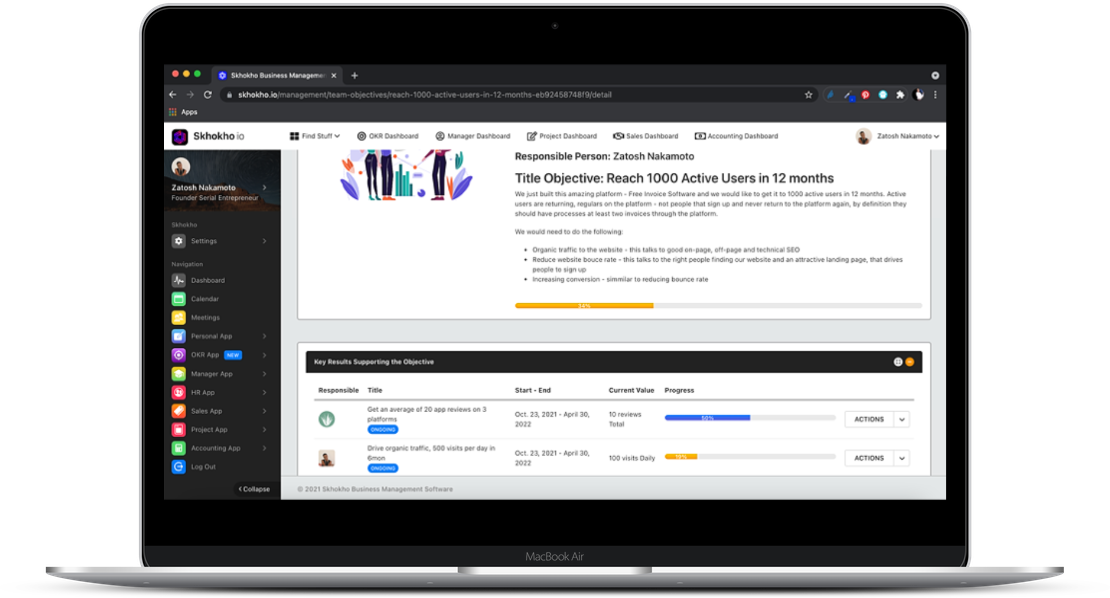 Meeting Management: Affordable Business Software
skhokho is among the first and few SaaS products to integrate meeting management into a business management system. Don't lose meeting minutes or misplace meeting minutes in spreadsheets or scattered meeting template files. Skhokho lets you view all the details of your meetings in one place, including the participants, action items, and topic discussions.
With just one click, invite attendees to meetings and generate minutes online.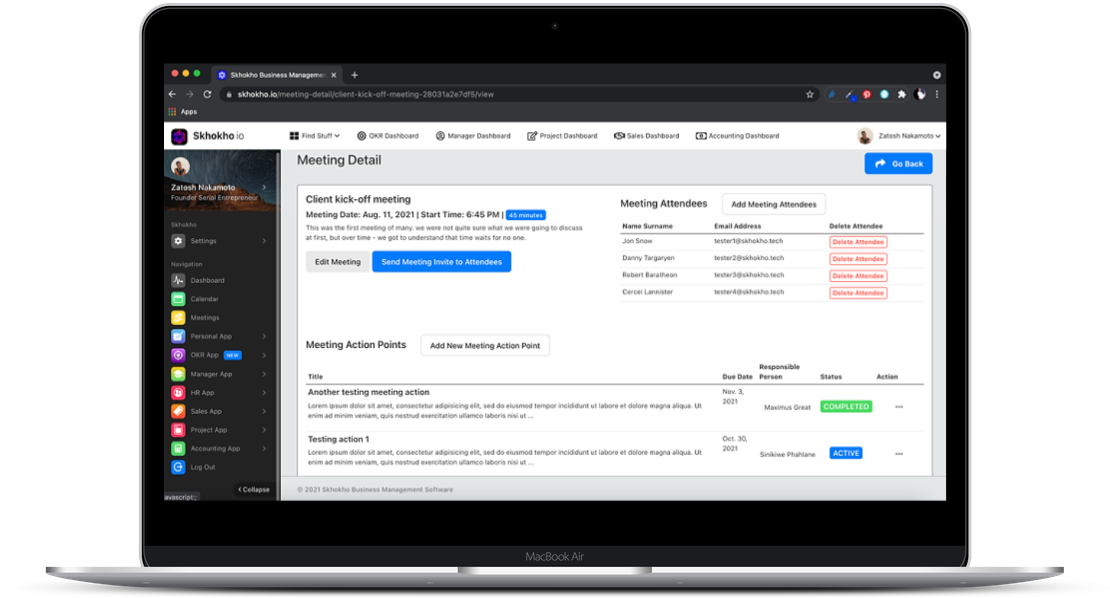 Accounting Management
Accounting software includes functionality for invoicing, quoting, and managing expenses. Accountant dashboards, sales tracking for business product and services, and more. The business package – tier 2 includes accounting software for a cost of $28 per month for up to three users. Human Resources Management System and OKR are already included in the Business Package without additional charge.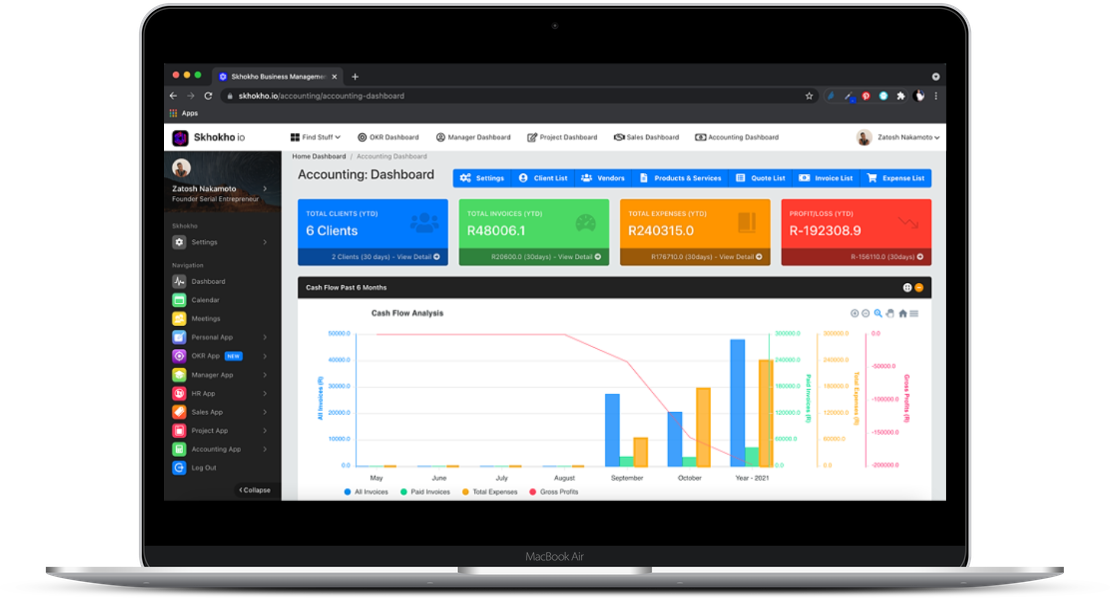 Project Management
The following functionalities are included in project management software: Teams can collaborate on projects, milestones and tasks can be tracked. Providing clients with project access portals to view progress, documents, and meeting notes. Meeting notes and project documents.
Together with the accounting app, project management is part of the business suite. The two are integrated so that invoices can be assigned to clients and projects through the project app, and invoice information can be viewed in the project app.
There is still a $28 monthly fee for the Business package which includes both Accounting and Project Management applications.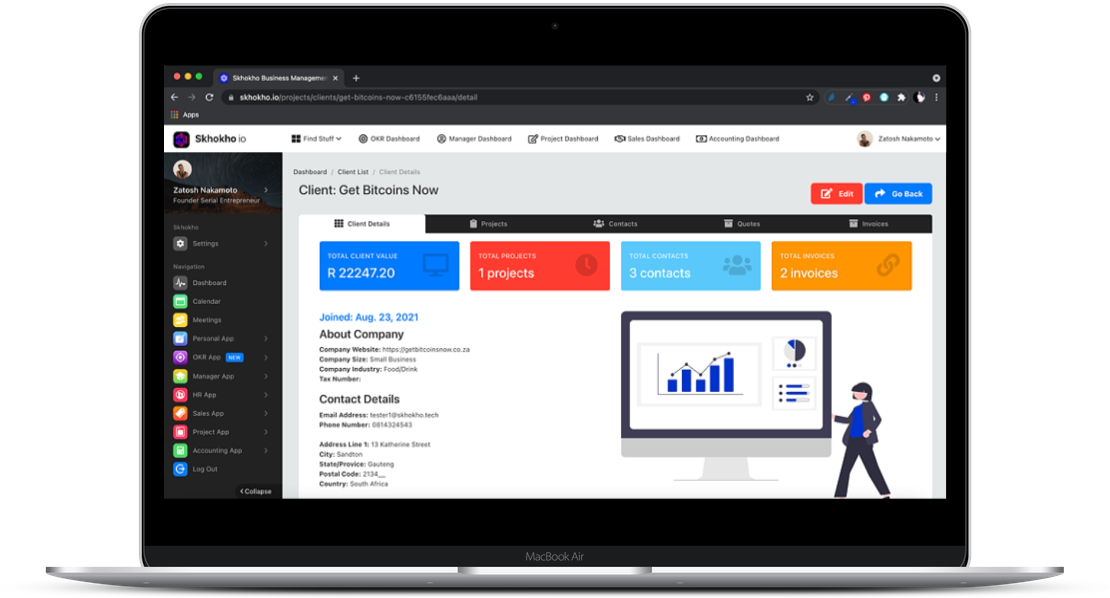 Sales and CRM: Affordable Business Software
The CRM app provides the functionality for recording and tracking clients within the business. Divide your customer lists into mailing groups and then use your CRM software to send group emails on a regular basis.
Follow up on leads, document meetings, and take notes related to leads. This dashboard gives a snapshot of what the Sales team is up to at the moment.
The Business Plus package includes CRM and sales apps at a monthly cost of $40 per user. This package includes the complete suite of apps on Skhokho and is the premium package.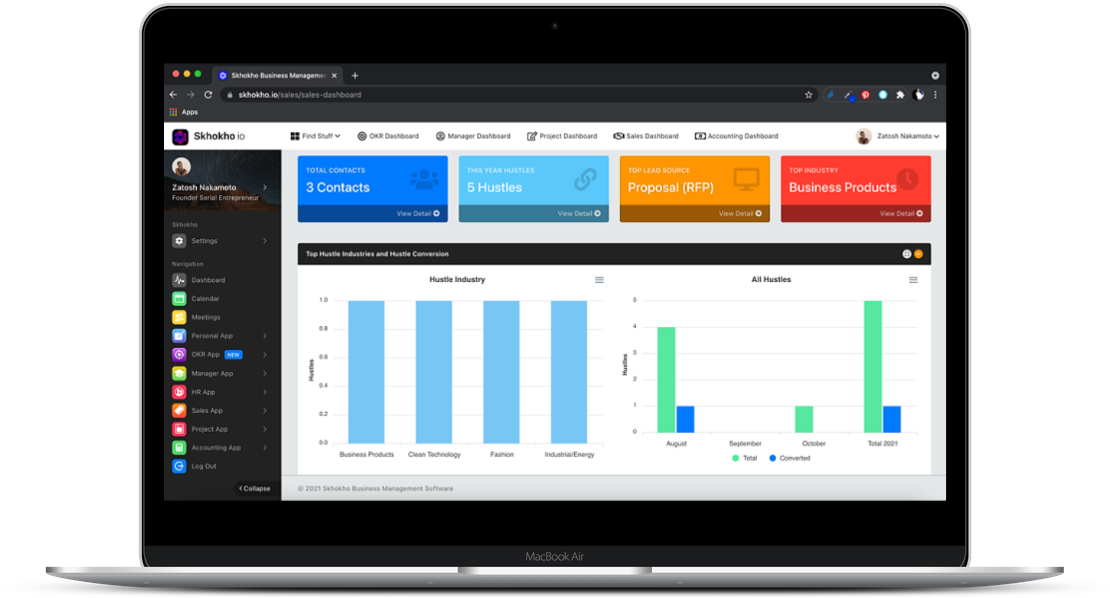 Skhokho Pricing
The pricing table for skhokho, demonstrating all the features and prices is shown below. Get started by registering for a 14 day free trial.