In this article, we'll go over the processes to writing a successful business plan. Developing a business plan is undoubtedly one of the most crucial tasks that every founder, entrepreneur, or business owner must undertake. It aids in the comprehension of your company, clientele, difficulties, and prospects.
A Business Plan's Advantages
A business plan is an excellent approach to organise your thoughts and put your company on the path to success. If you want to establish a business, make a business plan and stick to it.
The following are some of the advantages of having a business plan:
A business plan can help you stay focused on your goals.
It is also a tool to help you track your progress and make changes as needed.
This is a document to help you attract investors and also lenders.
The plan can help you make better business decisions.
It surely helps you manage your finances.
Where To Start With Writing a Successful Business Plan
Creating a business strategy is critical for every company, whether it is brand new or has been around for a while. A business plan acts as a guide for the company, laying out the mission and targets that must be met, as well as the procedures that must be followed to reach them.
The first stage in writing a business plan is to evaluate the company's current situation and identify its advantages and disadvantages. This include analysing the company's market dominance, intensity of competition, client base, and overall financial situation. After that, the company can create realistic goals and plans.
The business strategy should indeed spell out the exact steps that must be done to meet these objectives. Sales and marketing approaches, research and development plans, strategic hr plans, financial estimates, and other items may be included. A precise budget should be included in the business strategy to help track the company's improvement over time.
A well-written business plan could be a useful tool for any company, ensuring that it is on the right course to prosperity.
Building a Business Plan: A Step-by-Step Guide
The first task in writing a business plan is to have a concise vision for your company. This implies you'll really have to know a lot about the sector you're going into, the products or services you'll offer, your target market, and your competitors.
You must develop a business model once you have a strong understanding of what your company will be. This is a full description of your business's operations, including how you'll generate money, commercialise your products or services, and handle day-to-day operational processes.
After that, you must devise a marketing and sales strategy. This section should include a description of your target market, marketing goals and objectives, and advertising strategies and methods that you plan to use.
Then you must design a financial strategy. This should include expected revenue and expenses, as well as estimated startup costs and financial commitments.
Lastly, you must put all of the elements together to form a comprehensive business strategy. This should include a full explanation of your company, its model, sales and marketing strategies, financial projections, and a risk evaluation.
The elements that make up a business plan
A business plan is a detailed document that lays out the company's objectives, strategies, and tactics, as well as how they will be attained. A business strategy normally contains the following components: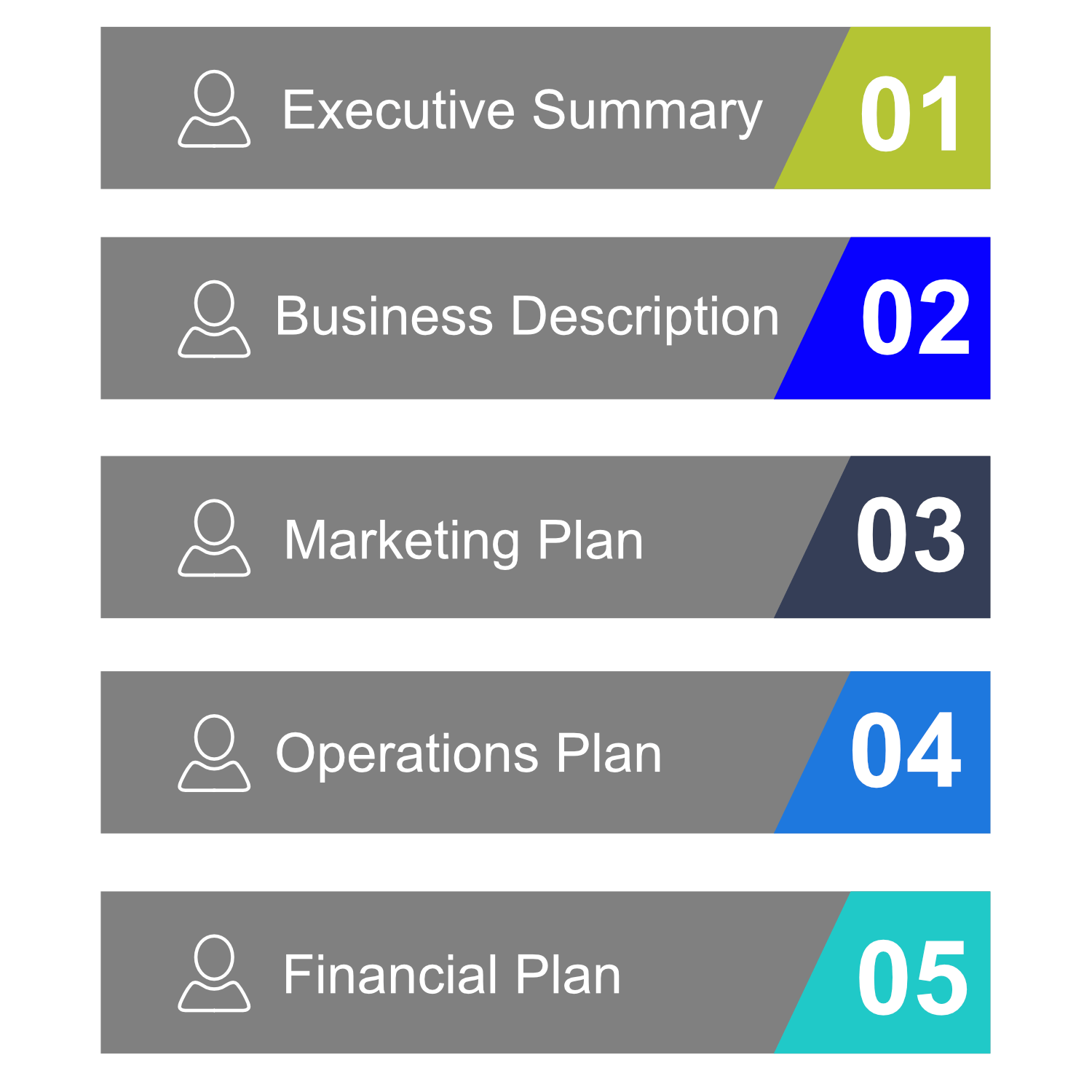 Executive Summary
This section gives you a high-level summary of the company, its goods and services, and its main goals.
Business Description
This section gives a comprehensive overview of the company, its products and services, and its target market.
Marketing Plan
This part explains how the company intends to recruit and keep customers. It describes the company's marketing strategy as well as its advertising and promotional initiatives.
Operations Plan
This section describes the company's operational strategies, such as production plans, workforce needs, and organisational structure.
Financial Plan
This part contains the company's financial projections, such as the income statement, cash flow statement, and balance sheet.
Starting with a business plan and ending with a business strategy
As we have mentioned that a business plan is a document that lays out a company's aims and objectives, as well as the procedures necessary to accomplish them. A business strategy is a blueprint for achieving a company's aims and objectives.
A company strategy, on the other hand, should be dynamic and evaluated frequently to ensure that it is still relevant and effective. A business plan is static and may only be changed once or twice a year. Between a business plan and a company strategy, there are a few fundamental differences.
A company strategy focuses on the future, whereas a business plan concentrates on the past and present. A business plan usually focuses on the financials and operations of a firm, but a business strategy focuses on how the company will compete and expand.
This is also used to attract investors and partners, whereas a company strategy is used to guide decision-making.
Many firms begin with a business plan, but it is critical to understand that a business plan is not the same as a strategy. A business plan is a good place to start, but it's crucial to turn it into a company strategy if you want to be successful.
Read more on Business Strategies approached on our blogs here: https://skhokho.io/blog/strategy
Get started with Skhokho Today: https://skhokho.io/authentication/register
For more information, view this Business Goal Article