Today, we're going to talk about how cash flow forecasting can help your small business. Our discussion will cover what cash flow forecasting is, how it can help your business, and what the benefits are.
Using real data based on your current business operations, we'll also go through ways for you to begin developing your cash flow forecast.
Introduction
Cash flow forecasting is an important tool for determining your company's financial health. You may watch your incoming and outgoing cash flow. Establish a cash flow forecast can then help you spot any possible problems or opportunities. This data can assist you in making smart judgments about your company's performance.
Because there are several methods for creating a cash flow forecast, it's critical to select the one that's ideal for your company.
The following are some common methods, cash flow:
Operations – This method examines the cash flow generated by your company's routine activities. Revenue and costs. As well as changes in working capital, are all included.This method examines the cash flow generated by your company's routine activities. Revenue and costs, as well as changes in working capital, are all included.
Investments – This strategy examines the cash flow generated by your company's investments. Such as loans, investments, and receivable accounts.
Financing – This method also examines your company's cash flow through financing activities. Such as stock issuance, debt issuance, and loan repayment.
A cash flow forecast will help your business make informed decisions. It can be used for a variety of purposes, including the following:
Stay updated on the financial health of your company
Make a decision on whether or not to expand or contract your company
Decide whether to borrow or invest money
Think on how much to charge for your goods and also services
Determine when to pay invoices and when to collect payments
Make a budget for future spending and income.
The first approach, cash flow from operations, will be covered in this blog. We'll go over how to develop a genuine and data-backed cash flow forecast. We will do this with the Skhokho accounting and sales CRM tool.
Forecasting's Value
Forecasting is crucial for a number of reasons:
It can assist you in identifying parts of your company where you are making a loss or where you could be generating more.
This can assist you in making more informed judgments about how to deploy your resources.
This might assist you in making financial projections for the future.
It can aid in the detection and avoidance of financial difficulties.
This could also assist in detecting and avoiding financial problems.
This could assist in detecting and avoiding financial problems.
Types of Forecasting
The technique of predicting future occurrences or patterns is known as forecasting.
There are three main types of forecasting: (1) trend forecasting, (2) causal forecasting, and (3) judgmental forecasting.
Trend Forecasting : Cash flow forecasting
The practice of anticipating future events based on historical trends. Consumer items, such as fashion and food, are frequently forecasted using this method. Forecast trends using historical. data, surveys, and consumer research
Causal Forecasting
The practice of anticipating future events based on known causes and consequences. Making business decisions is much easier with this forecasting. Decisions like production planning and supply chain management. Statistical models and based on past can be used to perform causal forecasting.
Judgemental Forecasting
The technique of anticipating future occurrences depending on personal opinion or experience. Pricing and marketing decisions are frequently made using this form of forecasting. Personal experience, expert opinion, and market research can all be used to make judgmental forecasts.
Forecasting is a crucial platform for organisations to employ when making intelligent choices. The nature of the business and the available data determines the sort of forecasting adopted. Forecasting can assist organisations in better understanding their financial situation. Also making smarter decisions, and making long-term plans.
Implementing Skhokho Business Software
A blend of causal and trend forecasting is essential to establish a business's trustworthy and data-backed cashflow.
Because historical results is the best predictor of future possibilities, trend forecasting is essential. Financial firms, banks, lenders, and investors all apply trend forecasting to evaluate potential cash flow for a business and to gauge future valuation and risk.
Use the same methods to determine your own cash flow projections.
For instance, consider a company that has consistently generated $100k MRR (regular monthly revenue) for the past six months. It is safe to forecast and assume that the company will continue to make the same amount of money in the future. Assuming that all other factors remain constant.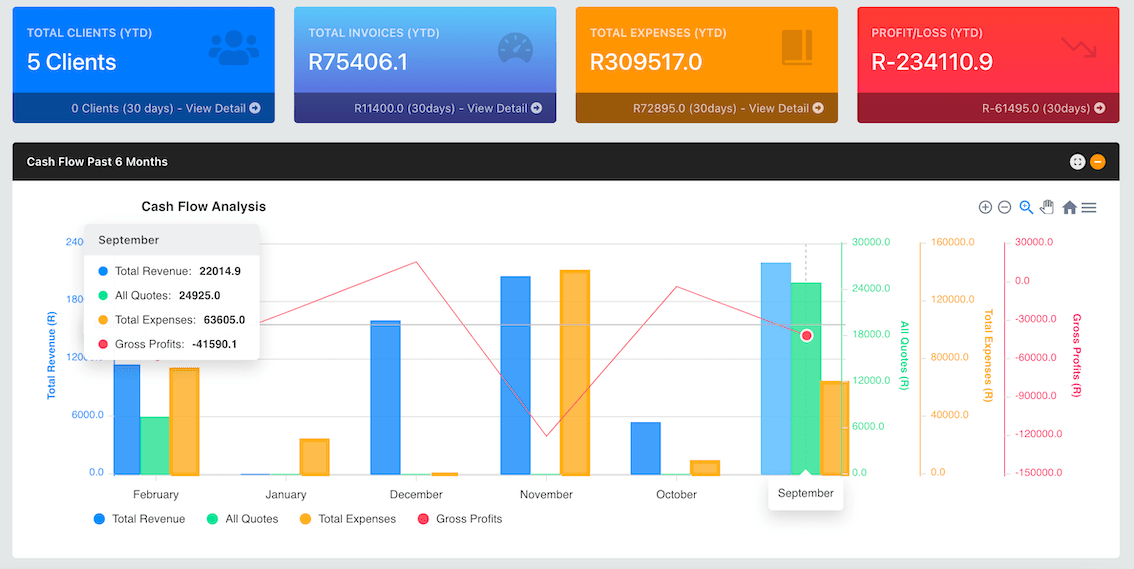 By simply extending the cash flow diagram from operations forward. This may build future estimates based on previous values. As seen in the graphic above. It's important to note at this point that for this strategy to work, you'll need to precisely record your present cash flow.
This means, accurately recording:
All of your invoices (and the status – paid, outstanding etc)
All of your business expense
Skhokho can assist you with all of these features; read more on the Accounting Software Documentation page.
Cash flow forecasting: from issued quotes – Causal Cash Flow Forecasting
Analysing your current "quotes" data is another approach for producing credible, data-based cash flow estimates. Of course, this is dependent on your type of business. But assuming you submit quotes to firms on a regular basis. Analysing current bids and acceptance rates can provide you with a glimpse into your future finances.
Nevertheless, because quotes have a rapid turnaround period, they are as good as trend predictions. Analysing your sales funnels and efforts would be a more causal approach.
Cash flow forecasting: from sales funnel – Causal Cash Flow Forecasting
In some form or another, every business needs a sales or business development department, which some call marketing. This is the department that is focused on the future and spends money to bring in new business. Boost sales by using marketing and lead creation.
You can begin to develop fairly accurate financial projections when you start analysing your sales efforts (lead conversion rates) and actual value of leads in your sales pipelines.
Analysis of sales data helps in determining company's cash flow.
To break the data down, you can do the following:
You can use trend data to figure out how many leads you convert (percentage).
Lead Confidence – your levels of confidence can change as you pursue leads. Having an established relationship with a known client may give you more confidence than winning a new client.
Estimated value of all leads – what is the estimated monetary value of your sales leads.
Cash flow projection = Value of lead X Probability to win lead
Where:
Probability of winning the lead is = (Lead confidence + Lead conversion)
Skhokho CRM to generate the data
Use Skhokho CRM (Sales and Business Development Software) to generate the data that you need to start making accurate calculations on financial projections.
Read more here: https://skhokho.io/documentation/sales/
14 Day Free Trial: https://skhokho.io/authentication/register
For more blogs Visit: Blog.tati.digital